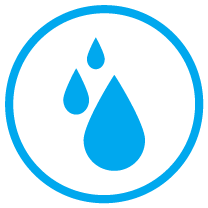 Screen Washout Booth
Hydrobooth
The Hydrobooth screen washout booth includes a full backlight panel that insures the operator can inspect the screens for ink or emulsion occlusions during and after the wash operation. The Hydrobooth is specifically designed to control and contain the high-pressure high-velocity spray generated by a Hydroblaster operating at 3000 PSI during screen reclaiming. Perimeter spray deflectors help protect the operator from splashing and insure that the wash operation stays inside the Hydrobooth.
Hydrobooths can be equipped with a venting system that further controls the escape of spray and wash products from the booth. Internal self-draining ducting collects the overspray and vapor which coalesces inside the ducts and drops back into the Hydrobooth basin, never on the screen or the operator.
The system is provided with switched controls for the backlight panel and venting. The control enclosure can be mounted in a number of convenient locations. All electrical components, including back lights are provided in NEMA 4X enclosures and are all non-metallic sealed conduit connected.
Screens are placed in a u-shaped heavy gauge stainless steel tray and clamped in place with an adjustable rack system. Multiple screens may be mounted in the Hydrobooth simultaneously.
Wash water and contaminates flow to a single drain point in the stainless steel basin where they are captured for filtration or discharge.
A wide variety of size and configuration options allow the booth to be tailored to your requirements. Screens as small as six inches square up to billboard size are washed in Hydrobooth systems. Booth stands tall enough to allow waste water collection sumps, filtration equipment and Hydroblasters to be located conveniently below the Hydrobooth basin are available.
Refer to the Model Specifications link for information about standard booth sizes. If you don't find what you want, call us about custom sizes. When considering booth sizes it's important to select a booth that will accommodate your largest screen. The booth dimensions on the specification sheet are exterior dimensions. The screen support and clamping system reduces the usable Hydrobooth width by 3" and the height by 2". The venting system reduces the usable width by 8".
Please contact Hydro Engineering, Inc. about your screen reclaiming needs.
---
Model Specifications

Hydrobooth - Model B4030

Hydrobooth - Model B6030

Hydrobooth - Model B7230

Hydrobooth - Model B9630